PRESS RELEASES
Official press releases from Sony Pictures in Sweden and USA 2007-2008

2007-06-19_Marc_Forster_to_direct_Bond_22.pdf

2008-01-07_Bond_22_starts_production.pdf

2008-01-08_Inspelningen_av_nya_Bondfilmen_har_startat.pdf

2008-01-24_Första_bilderna_från_nya_Bond-filmen.pdf

2008-07-03_Trailern_för_Quantum_of_Solace_ute.pdf

2008-07-30_Jack_White_and_Alicia_Keys_does_theme_song.pdf

2008-08-21_Nytt_premiärdatum_för_QOS_i_Sverige.pdf

2008-09-05_Agent_007_Daniel_Craig_till_Stockholm.pdf

2008-10-29_Ändrad_censur_för_den_nya_Bondfilmen.pdf

2008-11-01-Rekordöppning_för_QOS_i_Sverige.pdf


SOUND CLIPS
Official sound clips (c) Sony Pictures Releasing, 2008. All rights reserved.

10_Quantum_of_Solace.mpa

11_Quantum_of_Solace.mpa

1_Quantum_of_Solace.mpa

2_Quantum_of_Solace.mpa

3_Quantum_of_Solace.mpa

4_Quantum_of_Solace.mpa

5_Quantum_of_Solace.mpa

6_Quantum_of_Solace.mpa

7_Quantum_of_Solace.mpa

8_Quantum_of_Solace.mpa

9_Quantum_of_Solace.mpa


VIDEOS
Official news wraps (c) Sony Pictures Releasing, 2008. All rights reserved.

1_Quantum_of_Solace_Newswrap.wmv

2_Quantum_of_Solace_Newswrap.wmv

QUANTUM OF SOLACE © 2008 Danjaq, LLC, United Artists Corporation, Columbia Pictures Industries, Inc.

>READ A SPOILER-FREE REVIEW OF QUANTUM OF SOLACE

OFFICIAL SYNOPSIS
QUANTUM OF SOLACE continues the high octane adventures of James Bond (DANIEL CRAIG) in CASINO ROYALE.

Betrayed by Vesper, the woman he loved, 007 fights the urge to make his latest mission personal. Pursuing his determination to uncover the truth, Bond and M (JUDI DENCH) interrogate Mr White (JESPER CHRISTENSEN) who reveals the organisation which blackmailed Vesper is far more complex and dangerous than anyone had imagined.

Forensic intelligence links an MI6 traitor to a bank account in Haiti where a case of mistaken identity introduces Bond to the beautiful but feisty Camille (OLGA KURYLENKO), a woman who has her own vendetta. Camille leads Bond straight to Dominic Greene (MATHIEU AMALRIC), a ruthless business man and major force within the mysterious organisation.

On a mission that leads him to Austria, Italy and South America, Bond discovers that Greene, conspiring to take total control of one of the world's most important natural resources, is forging a deal with the exiled General Medrano (Joaquin Cosio). Using his associates in the organisation, and manipulating his powerful contacts within the CIA and the British government, Greene promises to overthrow the existing regime in a Latin American country, giving the General control of the country in exchange for a seemingly barren piece of land.

In a minefield of treachery, murder and deceit, Bond allies with old friends in a battle to uncover the truth. As he gets closer to finding the man responsible for the betrayal of Vesper, 007 must keep one step ahead of the CIA, the terrorists and even M, to unravel Greene's sinister plan and stop his organisation.

The film opens in UK cinemas on October 31, 2008 and in US theatres November 7, 2008.

The official trailer for Quantum of Solace was released on June 30, 2008.

CREDITS
Directed by Marc Forster

Produced by Michael G. Wilson and Barbara Broccoli

2nd Unit Director: Dan Bradley

Screenplay by Neal Purvis, Robert Wade and Paul Haggis

Executive Producers: Anthony Waye and Callum McDougall

Cinematograper (Director of Photography): Roberto Schaefer

Production designer: Dennis Gassner

Film editor: Matt Chesse

Costume designer: Louise Frogley

Music by David Arnold (Monty Norman is the composer of 'The James Bond theme')

Cast:
Daniel Craig
Olga Kurylenko
Mathieu Amalric
Judi Dench
Gemma Arterton
Jeffrey Wright
Giancarlo Giannini
Anatole Taubman
Joaquin Cosio
Jesper Christensen
Jesus Ochoa

Filming locations:
Austria, Bolivia, Chile, Italy, Panama and Pinewood Studios, UK.

CAST AND CREW BIOGRAPHIES

MARC FORSTER – DIRECTOR:
BAFTA and Golden Globe nominated director, Marc Forster, made his directorial debut in 2000 with a psychological horror movie entitled EVERYTHING PUT TOGETHER, which he also co-wrote. The film premiered at the 2000 Sundance Film Festival and Forster went on to direct a string of critically acclaimed blockbuster hits including, most recently, THE KITE RUNNER based on Khaled Hosseini 's best seller. Although born in Germany, Forster was raised in Switzerland where he attended the famous Institut Montana Zugerberg. However, his early ambition was to make films and in 1990 he moved to America to study film at New York University. Forster commented, "When you grow up like that and suddenly you decide you intend to make movies, everybody says it's impossible, but here I am and I'm living my dream."

Today, Forster's impressive filmography includes MONSTERS BALL (2001), which received two Oscar nominations with Halle Berry winning Best Actress, and FINDING NEVERLAND (2004); a film based on the semi -autobiographical story of the friendship between J.M. Barrie and the single mother who lived next door with her four boys. FINDING NEVERLAND, starring Johnny Depp and Kate Winslet, received seven Academy Award nominations, five Golden Globe nominations and 11 BAFTA nominations all including Best Picture. Forster was also nominated Best Director by his peers at the Directors Guild Of America.

In 2005 Forster helmed the reality bending thriller STAY starring Ewan McGregor and Naomi Watts and went on to direct hit comedy STRANGER THAN FICTION, with Will Ferrell, Maggie Gyllenhaal, Dustin Hoffman, Emma Thompson and Queen Latifah, the following year.

MICHAEL G. WILSON - PRODUCER:
When James Bond returned to the screen after an absence of six years, Michael Wilson produced the hugely successful GOLDENEYE with his half sister Barbara Broccoli, followed by the blockbuster 007 releases TOMORROW NEVER DIES, THE WORLD IS NOT ENOUGH, DIE ANOTHER DAY AND CASINO ROYALE. Together they are the producers of the twenty second Bond adventure, currently being filmed, starring Daniel Craig, Olga Kurylenko and Mathieu Amalric.

Wilson joined Eon Productions in a legal-administrative capacity in 1972 and was named Assistant to the Producer on THE SPY WHO LOVED ME. He received his stripes as Executive Producer on MOONRAKER and continued with that credit on the following two Bond films. His creative abilities are evident in FOR YOUR EYES ONLY, OCTOPUSSY, A VIEW TO A KILL, THE LIVING DAYLIGHTS, and LICENCE TO KILL, all of which he co-wrote. He became producer with his stepfather, the late Albert R. Broccoli, on A VIEW TO A KILL, continuing with THE LIVING DAYLIGHTS and LICENCE TO KILL. He is currently Managing Director of EON Productions Ltd.

Michael Wilson graduated from college as an electrical engineer. He then studied law at Stanford University, worked for the US government and later became a partner in a prestigious Washington D.C. firm that specialised in international law. Michael is interested in all aspects of still photography and is recognised as a leading expert on 19th century photography. He is a member of the Advisory Council of the National Museum of Photography, Film and Television (a branch of the NMSI) and, in 1998, he founded the Wilson Centre for study and research on the history and aesthetics of photography.

In 2003, together with Dana Broccoli, Michael and Barbara produced the award winning stage version of Chitty Chitty Bang Bang, which opened to rave reviews in London and later in New York.

He was awarded the OBE (Order of the British Empire) in Her Majesty the Queen's New Year Honours List 2008.

BARBARA BROCCOLI – PRODUCER:
A graduate of Loyola University, Los Angeles, where she majored in motion picture and television communications, Barbara Broccoli has worked in the production and casting departments at EON Productions for many years. Together with her half brother Michael G. Wilson, she is currently in production on the twenty second 007 adventure in the series, starring Daniel Craig and Olga Kurylenko.

Starting her career as an assistant director on OCTOPUSSY and A VIEW TO A KILL Barbara worked her way up to become associate producer on THE LIVING DAYLIGHTS and LICENCE TO KILL. She and Michael then went on to produce GOLDENEYE, TOMORROW NEVER DIES, THE WORLD IS NOT ENOUGH, DIE ANOTHER DAY and CASINO ROYALE.

Through her own independent production company, Astoria Productions, Barbara produced CRIME OF THE CENTURY for HBO, starring Stephen Rea and Isabella Rossellini and directed by Mark Rydell from a screenplay by William Nicholson based on a book by Ludovic Kennedy. The television film, about the kidnapping of the Lindbergh baby, was nominated for four Golden Globe Awards – Best Film, Best Actor, Best Actress, Best Supporting Actor – in the category covering Motion Pictures or Mini-Series made for Television.

Barbara is Chair of First Light, the UK Film Council's filmmaking initiative for young people.

In 2003, together with Dana Broccoli, Michael and Barbara produced the award winning stage version of Chitty Chitty Bang Bang which opened to rave reviews in London and later in New York.

Barbara was awarded the OBE (Order of the British Empire) in Her Majesty the Queen's New Years Honours list 2008.

DAN BRADLEY – 2nd UNIT DIRECTOR:
Since beginning his career in the film industry as a stuntman almost 30 years ago, Dan Bradley has steadily worked his way up the ladder to become one of the most respected and sought after stunt directors of his generation. Getting his big break on INDEPENDENCE DAY (1996), Bradley now boasts over 140 film credits and in 2005 won Best 2nd Unit Director at the prestigious World Stunt Awards for his work on THE BOURNE SUPREMACY.

Bradley was quoted as saying, "I don't think there's really a stunt idea that is impossible" and his dedication shows on screen – his work on SEABISCUIT is often reviewed as being the best horse racing ever captured on film. His impressive list of credits as 2nd Unit Director include; THREE KINGS, THE BOURNE SUPREMACY, THE BOURNE ULTIMATUM, SPIDER-MAN 2 AND 3, SUPERMAN RETURNS and Steven Spielberg's highly anticipated INDIANA JONES AND THE KINGOM OF THE CRYSTAL SKULL due for release in May 2008.

DANIEL CRAIG – JAMES BOND:
Hailed as one of the finest actors of his generation on stage, screen and television, Daniel Craig is 007 agent James Bond of the British Secret Service MI6. Craig returns to the role following his highly acclaimed debut in CASINO ROYALE, the highest grossing film in the history of the 007 franchise.

Daniel Craig was born in Chester and brought up in Liverpool, leaving there to join the National Youth Theatre in London at the age of seventeen. He continued his training at the prestigious London Guildhall School of Music and Drama, graduating in 1991.

Craig made his film debut in 1992 in the South African boxing drama THE POWER OF ONE but came to the attention of critics and casting directors in the much lauded 1996 television drama serial "Our Friends in the North", playing the role of Geordie Peacock.

In 1998 he played the role of George Dyer, painter Francis Bacon's working class boyfriend in John Maybury's powerful biopic LOVE IS THE DEVIL In 2000 he was recognised as one of European Films' "Shooting Stars". This was followed by roles in the Hollywood blockbuster LARA CROFT, TOMB RAIDER in which he played Lara Croft's boyfriend, the ensemble black comedy HOTEL SPLENDIDE and THE TRENCH, written and directed by acclaimed author William Boyd.

In 2002, Craig starred in Sam Mendes' film, THE ROAD TO PERDITION , receiving critical acclaim for his portrayal of Connor Rooney, the troubled son of crime boss John Rooney, played by Paul Newman. The following year he starred in THE MOTHER, a powerful drama directed by Roger Michell in which he played a young man who has an affair with a sixty year-old woman. This was followed by the role of Ted Hughes, starring opposite Gwyneth Paltrow in SYLVIA about the lives of poets Ted Hughes and Sylvia Plath.

In 2004, Craig took leading roles in ENDURING LOVE, directed by Roger Michell, adapted from Ian McEwan's novel, and LAYER CAKE, Matthew Vaughn's successful directorial debut about the contemporary criminal drug scene.

A role in John Maybury's thriller THE JACKET, starring alongside Adrien Brody and Keira Knightley, was followed by the lead in the television adaptation of Robert Harris' best selling novel ARCHANGEL, and a leading role in Steven Speilberg's Oscar nominated MUNICH.

In 2006, Craig played Perry Smith in INFAMOUS opposite Toby Jones as Truman Capote (writer of the best-selling novel "In Cold Blood") based on the murders committed by Smith and Dick Hickock and then starred opposite Nicole Kidman in THE INVASION a horror thriller, directed by Oliver Hirschbiegel.

After CASINO ROYALE, Daniel Craig teamed again with Kidman to star in THE GOLDEN COMPASS a film based on the first novel in the Philip Pullman trilogy. Followed by FLASHBACKS OF A FOOL written and directed by Baillie Walsh and, most recently, DEFIANCE directed by Edward Zwick - both are due for release in 2008.

Alongside his film work, Craig is acknowledged as a highly accomplished stage actor. His credits include leading roles in Hurlyburly, with the Peter Hall Company at the Old Vic, Angels in America at the National Theatre, and in 2002 he was nominated for a London Evening Standard Award for Best Actor for his performance in A Number, playing three roles opposite Michael Gambon.

OLGA KURYLENKO – CAMILLE:
Ukrainian born, Olga Kurylenko moved to Paris when she was 16 to pursue a career in acting which ran alongside a very successful career as a model in Paris, Milan, New York and London.

Her debut lead film performance came in Diane Bertrand's L'ANNULAIRE, in which Kurylenko played the lead of 'Iris'. She followed this with a role in PARIS JE T'AIME, the high-profile independent film in which a cooperative of acclaimed international directors told their own short stories about each district of Paris. This premiered in Cannes in the summer of 2006.

Also, in 2006, Kurylenko played "Sofia" in Eric Barbier's acclaimed thriller LE SERPENT in which she co-starred with French luminaries Yvan Attal, Clovis Cornillac and Pierre Richard.

This soon led to her first English-language role in Xavier Gens' HITMAN, produced by Luc Besson, in which she plays the role of "Nika Boronina" opposite Timothy Olyphant, Dougray Scott and Ulrich Thomsen.

MATHIEU AMALRIC – DOMINIC GREENE:
Mathieu Amalric, one of France's leading screen stars, is best known in to cinema audiences for his role as the French information broker, Louis, in Steven Spielberg's MUNICH. He was recently awarded France's César Award for Best Actor for his role in the internationally acclaimed comedy KINGS AND QUEEN, directed by Arnaud Desplechin. Previously, Amalric won the César for Most Promising Actor for his role in Desplechin's MY SEX LIFE.

Amalric began his career as an actor in 1984, appearing in Otar Losseliani's LES FAVORIS DE LA LUNE, and went on to serve as an assistant director to Louis Malle on AU REVOIR LES ENFANTS. As an actor, he has since worked with such leading directors as André Téchiné, Olivier Assayas, Jean-Claude Biette and the Larrieu Brothers. His latest films include Desplechin's UN CONTE DE NOEL, Claude Miller's UN SECRET, Nicolas Klotz's HEART BEAT DETECTOR, Valeria Bruni Tedeschi's ACTRICES and Vincent Dieutre's FRAGMENTS SUR LE GRACE. He also appeared in Sofia Coppola's MARIE ANTOINETTE. Amalric has written and directed a number of films including WIMBLEDON STAGE and, most recently, the documentary short LET THEM GROW UP HERE.

Amalric is currently receiving rave reviews for his portrayal of Jean-Dominique Bauby in the Oscar nominated THE DIVING BELL AND THE BUTTERFLY.

JUDI DENCH – M:
Since playing Ophelia in Hamlet at the Old Vic 50 years ago, Judi has received wide critical acclaim for a career marked by outstanding performances in both classical and contemporary roles. She has won more than 25 awards - including 9 British Academy Awards - in a career that has encompassed the stage, television and motion pictures. She received the OBE (Order of the British Empire) in 1970 for services to the theatre, and subsequently became a DBE (Dame of the British Empire) in 1988. She was recently awarded a CH (Companion of Honour).

Dench returns to the role of 'M', James Bond's boss and Head Of MI6, having played the role in five other 007 films; GOLDENEYE, TOMORROW NEVER DIES, THE WORLD IS NOT ENOUGH, DIE ANOTHER DAY and, most recently, CASINO ROYALE.

Her other notable feature film credits include: Franco Zeffirelli's TEA WITH MUSSOLINI, MRS BROWN (for which she won a Golden Globe, BAFTA Award and Oscar nomination), WETHERBY, A ROOM WITH A VIEW (for which she won a BAFTA Award as Best Supporting Actress), 84 CHARING CROSS ROAD, A HANDFUL OF DUST (another BAFTA Award-winning performance as Best Supporting Actress) and two films for Kenneth Branagh, HENRY V and HAMLET.

Dench won an Academy Award, a BAFTA Award and was named Best Supporting Actress by the National Society of Film Critics for her performance in the hit romantic comedy SHAKESPEARE IN LOVE. She was nominated for a Golden Globe Award and an Oscar for Best Supporting Actress for Lasse Hallstrom's CHOCOLAT.

She also won a BAFTA Award for her performance in THE LAST OF THE BLONDE BOMBSHELLS for Working Title Television. In 2001 she filmed IRIS directed by Richard Eyre with Jim Broadbent (for which she received a Academy Award nomination), and THE SHIPPING NEWS directed by Lasse Hallstrom with Kevin Spacey and Julianne Moore.

She continues working on the stage, starring in David Hare's Amy's View (winning a Tony Award for her Broadway performance), Peter Hall's The Royal Family and David Hare's The Breath of Life at the Theatre Royal Haymarket, with Dame Maggie Smith, All's Well That Ends Well for the Royal Shakespeare Company in Stratford and then the West End, Hay Fever at The Theatre Royal Haymarket, and most recently Merry Wives of Windsor at the RSC in Stratford.

Judi's recent film credits include David Twohy's THE CHRONICLES OF RIDDICK, Charles Dance's LADIES IN LAVENDER, Stephen Frears' MRS HENDERSON PRESENTS with Bob Hoskins, and NOTES ON A SCANDAL with Cate Blanchett, directed by Richard Eyre, for which Judi received a Best Actress nomination at the 2007 Academy Awards, the 2007 Golden Globes, the 2007 SAG Awards and the 2007 BAFTA's, and won Best Actress at the 2007 British Independent Film Awards. Most recently, she appeared in the critically acclaimed television series "Cranford" as Miss Matty Jenkins.

GEMMA ARTERTON – AGENT FIELDS:
Rising star Gemma Arterton made her feature film debut starring in the recently released ST. TRINIAN'S directed by Oliver Parker and Barnaby Thompson. Arterton plays Kelly (The Head Girl) in this modern version of the original St Trinians film. The film co-stars Rupert Everett, Russell Brand and Colin Firth.

Before joining the cast of Bond 22, Arterton had just completed filming 3 AND OUT, directed by Jonathon Girshfield. Arterton plays the role of Frankie in this comedy starring alongside Imelda Staunton and Mackenzie Crook. Also last year, she filmed the crime thriller ROCKNROLLA, directed by Guy Ritchie, co-starring Gerard Butler, Thandie Newton and Mark Strong.

On television, Arterton was seen late last year in Stephen Poliakoff's "Capturing Mary" (BBC). She has also recently finished filming "Lost In Austin" for ITV, directed by Dan Zeff in which she plays the character of Elizabeth Bennett starring alongside Jemima Rooper, Alex Kingston and Tom Riley.

On stage, Arterton appeared last year as Rosaline in Love's Labour's Lost, directed by Dominic Dromgoole at the Shakespeare's Globe Theatre.

JEFFREY WRIGHT – FELIX LEITER:
Award-winning actor Jeffrey Wright returns to play Bond's CIA ally, Felix Leiter, after his performance in the last James Bond film, CASINO ROYALE.

Jeffrey Wright's impressive filmography includes: Jonathan Demme's THE MANCHURIAN CANDIDATE, Jim Jarmushch's BROKEN FLOWERS, SYRIANA directed by Stephen Gaghan, Oliver Hirschbiegel's THE INVASION, Ang Lee's RIDE WITH THE DEVIL, BASQUIAT and, most recently, BLACKOUT, which Wright also produced.

Wright's numerous awards include the American Film Institute Actor of the Year Award for his performance as Martin Luther King in the HBO biopic "Boycott", and on stage he received a Tony Award nomination and an Obie Award for the critically acclaimed Top Dog, Underdog. In 1994 Wright won a Tony Award for his performance in Angels in America and nine years later, in 2003, he went on to win an Emmy and a Golden Globe for his supporting role in the HBO mini-series of the play.

After filming Bond 22, Jeffrey Wright will star in CADILLAC RECORDS, for Sony Pictures Entertainment, playing legendary bluesman Muddy Waters.

Link to the official website (where you can download wallpapers, read everything about the film, watch video clips and much more):
www.quantumofsolace.com
BEHIND THE SCENES PHOTOS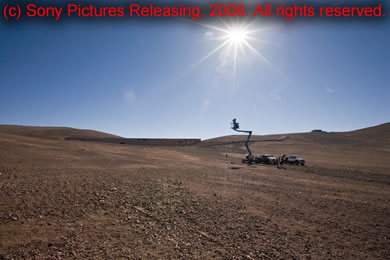 Photo above by Karen Ballard - Distant shot of the Residencia in the Chilean Atacama Desert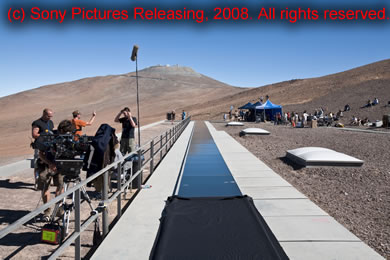 Photo above by Karen Ballard - Behind the scenes on the roof of ESO Paranal in the Chilean Atacama Desert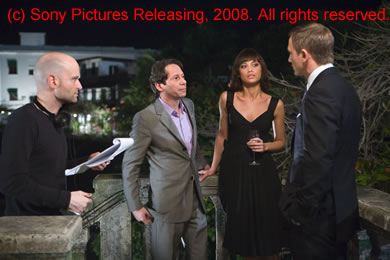 Photo above by Karen Ballard - Marc Forster on set with Mathieu Almaric, Olga Kurylenko and Daniel Craig in Casco Viejo, Panama City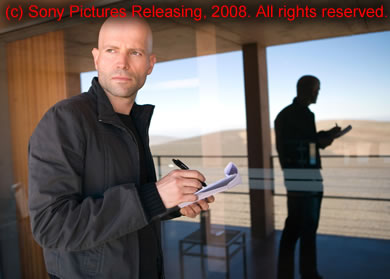 Photo above by Karen Ballard - Swiss director Marc Forster on location at the ESO Paranal, Chile
FILM POSTERS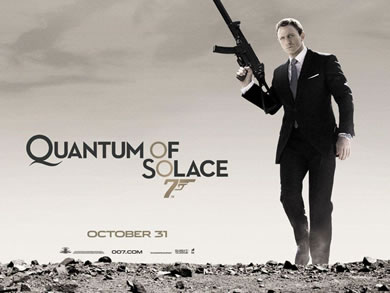 2nd teaser poster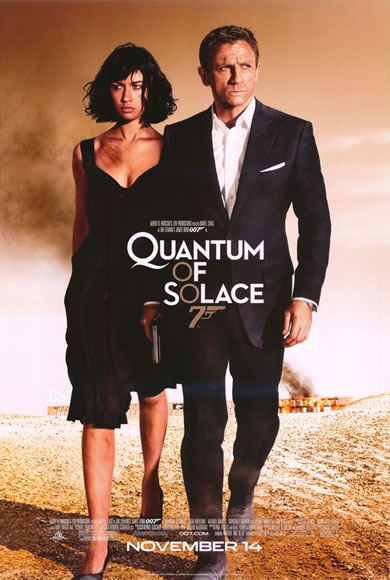 Official film poster
FILM STILLS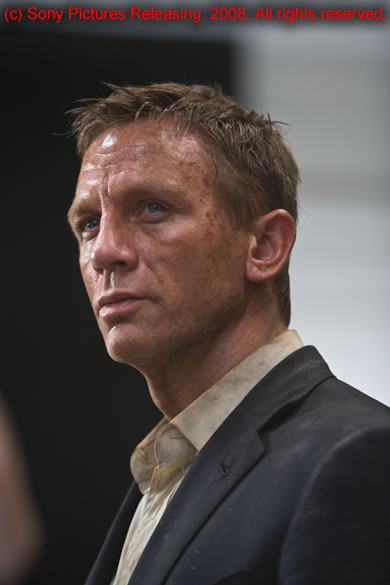 Photo above by Karen Ballard - James Bond (DANIEL CRAIG) at Pinewood Studios, Buckinghamshire, UK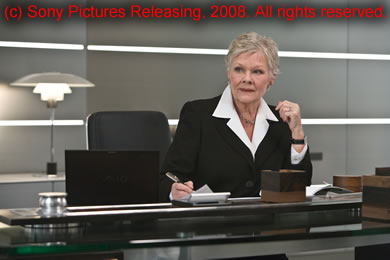 Photo above by Karen Ballard - M (JUDI DENCH) at the MI6 Head Quarters in London filmed at Pinewood Studios, Buckinghamshire, UK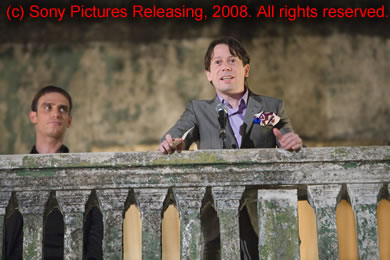 Photo above by Karen Ballard - Flanked by Elvis (ANATOLE TAUBMAN), Dominic Greene (MATHIEU AMALRIC) makes his welcome speech to party guests on location in Panama City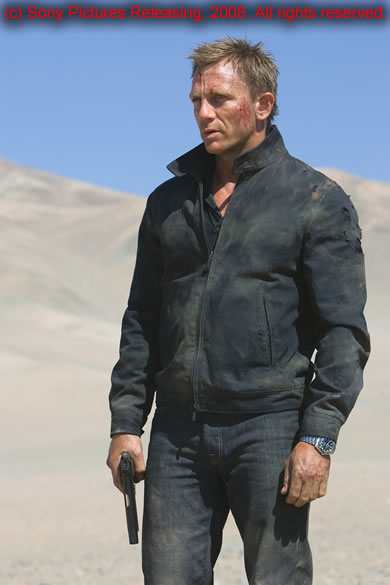 Photo above by Karen Ballard - James Bond (DANIEL CRAIG) in a scene on location in Chile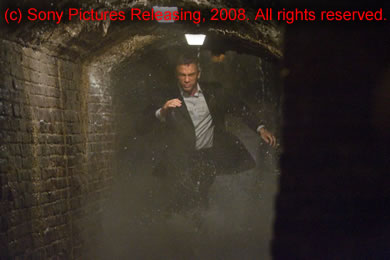 Photo above by Karen Ballard -James Bond (DANIEL CRAIG) charges through the underground cisterns of Siena in pursuit of an MI6 traitor. Filmed at Pinewood Studios, Buckinghamshire, UK.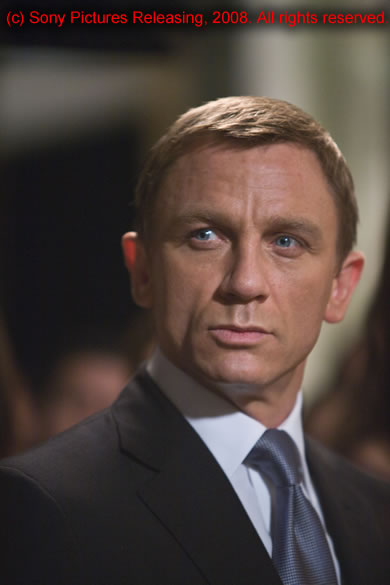 Photo above by Karen Ballard - James Bond (DANIEL CRAIG) on location in Casco Viejo, Panama City, Panama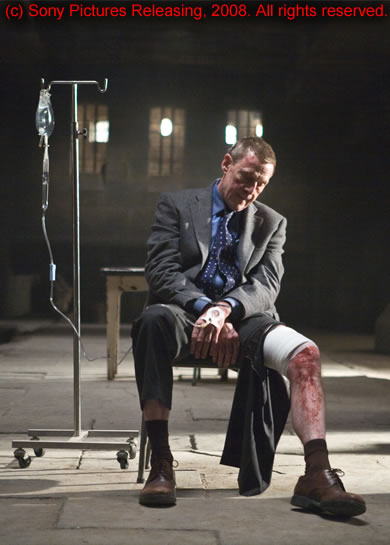 Photo above by Karen Ballard - Mr White (JESPER CHRISTENSEN) awaits interrogation at the MI6 safe house in Siena, Italy filmed at 007 Stage, Pinewood Studios, England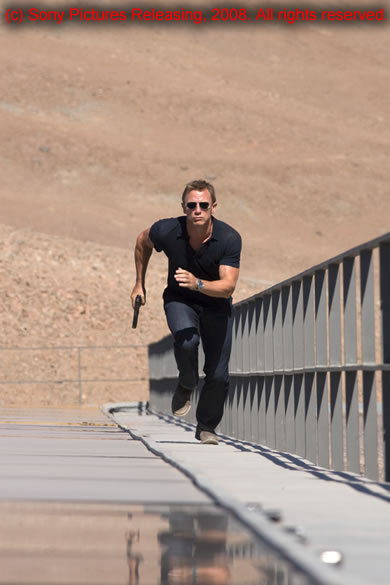 Photo above by Karen Ballard - James Bond 007 (DANIEL CRAIG) at Perla De Las Dunas, Bolivia filmed on location at ESO Paranal, Chile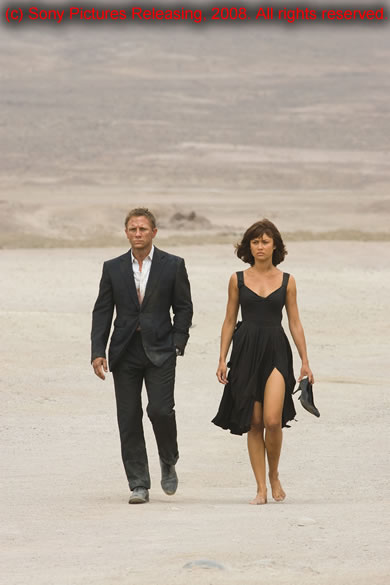 Photo above by Karen Ballard - James Bond (DANIEL CRAIG) and Camille (OLGA KURYLENKO) walk through the Bolivian desert in Chile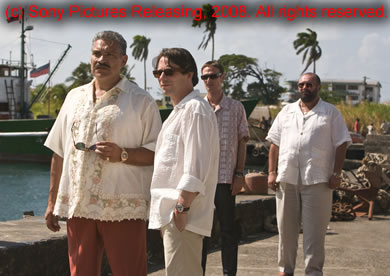 Photo above by Karen Ballard - General Modrano (JOAQUIN COSIO), Dominic Greene (MATHIEU AMALRIC), Elvis (ANATOLE TAUBMAN) and Lt. Orso (JESUS OCHOA) meet on the Haitian Quayside. Filmed on location in Colon, Panama.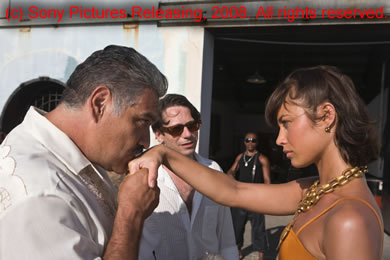 Photo above by Karen Ballard - Greene (MATHIEU AMALRIC) introduces Camille (OLGA KURYLENKO) to General Modrano (JOAQUIN COSIO), the man who murdered her family. Filmed on location in Colon, Panama.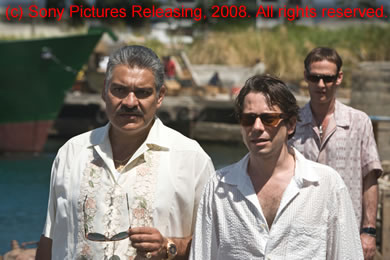 Photo above by Karen Ballard - General Modrano (JOAQUIN COSIO), Dominic Greene (MATHIEU AMALRIC) and Elvis (ANATOLE TAUBMAN) discuss business at the Kings Quay, Haiti. Filmed on location in Colon, Panama.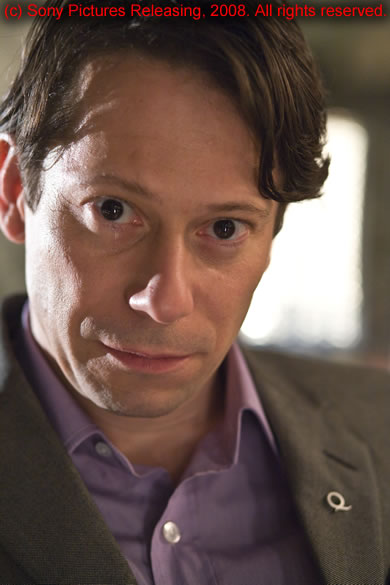 Photo above by Karen Ballard - MATHIEU AMALRIC is the villainous Dominic Greene. Here, on location in Casco Viejo, Panama City, Panama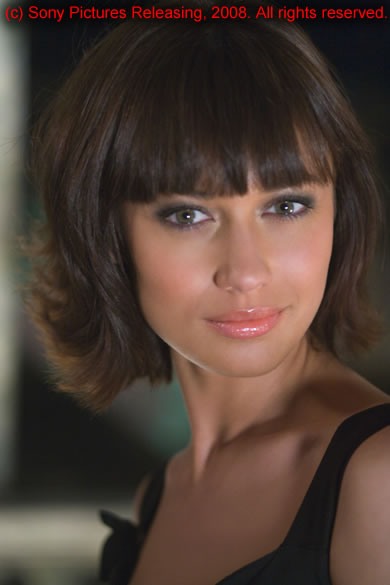 Photo above by Karen Ballard - OLGA KURYLENKO plays the beautiful but feisty Camille. Here, on location in Casco Viejo, Panama City, Panama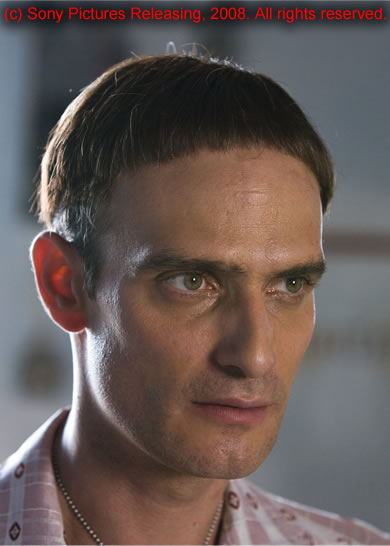 Photo above by Karen Ballard - Elvis (ANATOLE TAUBMAN) on location in Colon, Panama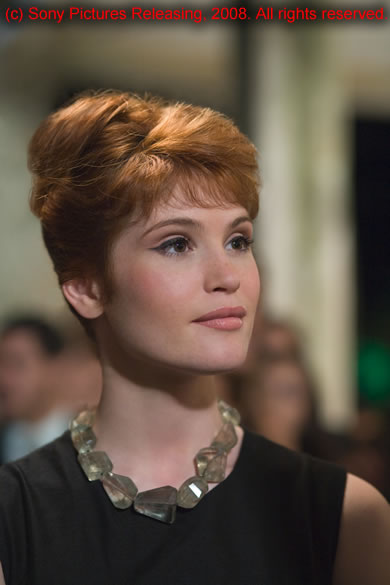 Photo above by Karen Ballard - GEMMA ARTERTON plays glamorous Agent Fields. Here, on location in Casco Viejo, Panama City, Panama
PORTRAITS OF THE CAST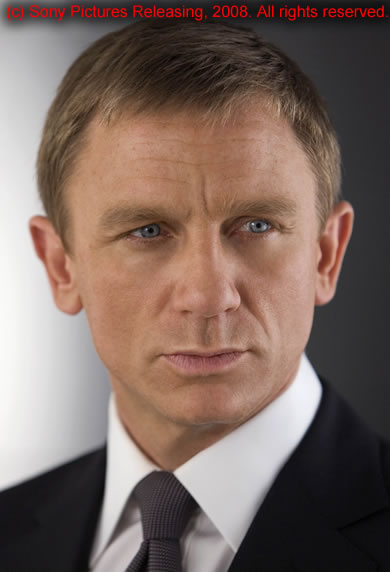 Photo above by Karen Ballard- Portrait of the British actor Daniel Craig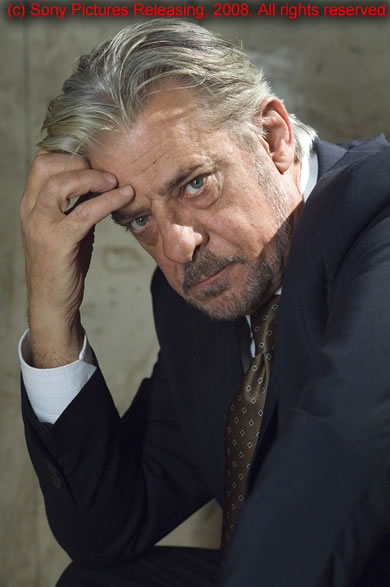 Photo above by Jay Maidment - Portrait of the Italian actor Giancarlo Giannini